Poway National Little League Baseball
Poway National Little League (PNLL) is proud to roll out the Spring 2018 Season. Opening Day is scheduled for the first week of March. Practices will begin in February.
REGISTRATION DATES AND FEES

Early registration is $195 ($140 for T-Ball) per player. After December 22, 2017, registration fees go up to $220 ($160 for T-Ball) per player. Please register early -- this reduces your cost and allows PNLL to plan for the 2018 season!
Registration for Majors, Minor A, and Minor B will close on Wednesday, January 17, 2018. Rookie and T-Ball registration ends on January 26, 2018.
A family discount of $30 is available for families with multiple children.

ELIGIBILITY

Children ages 4 - 13 are eligible to participate in Little League. Player age is calculated using the 2018 Little League Age Chart.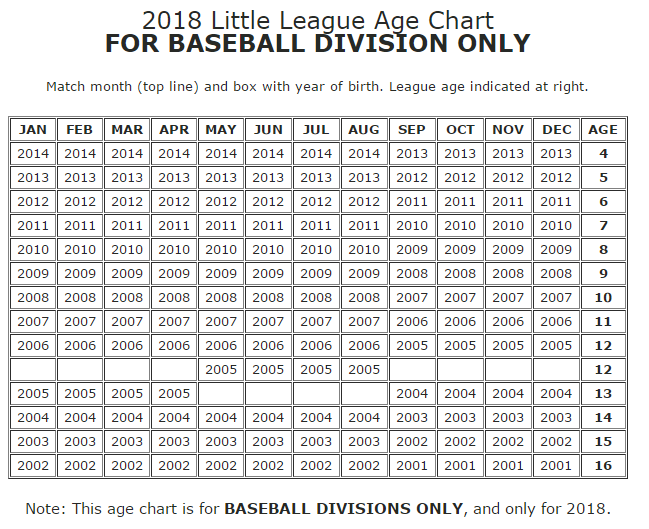 You can also calculate your child's league age here:
http://www.littleleague.org/leagueofficers/determine_league_age/league_age_calculator.htm
PNLL BOUNDARIES
Pursuant to Little League rules, players may register for the league where they live or the league where their school is located. To determine if you live within PNLL boundaries, please go to http://www.littleleague.org/LeagueFinder.htm. Under these two rules of eligibility, players can be covered under Little League insurance and are eligible to participate in All Stars at the end of the season.
Players who attend the following schools are eligible to register at PNLL:
Painted Rock Elementary

Pomerado Elementary

Valley Elementary

Chapparal Elementary

Meadowbrook Middle School

St. Michael's Catholic School
RECOMMENDED AGES
T-Ball: Ages 4 - 6
Rookies: Ages 6 - 8
Minor B: Ages 8 -9
Minor A: Ages 9 - 10
Majors: 11 - 12


PLAYER ASSESSMENTS -- SATURDAY, JANUARY 20, 2018
Player assessments for Majors, Minor A and Minor B will take place on Saturday, January 20, 2018. Please make arrangements for your player to be available on this day. There will not be a make-up day. During the Assessment process, Team Managers will draft Players based upon their skill levels. Generally, Players are drafted within the division of the recommended age bracket; however, it is possible for a Player to be drafted up or down as necessary. This is to ensure that your child gets the most out of the season.
For those Players in Rookies and T-Ball, PNLL does everything possible to accommodate friend and coach requests.
EQUIPMENT
For those of you that are new to our league, your registration will include a uniform, including a game shirt and hat for your child. Your child will need the following equipment to participate in the Spring season:
Baseball pants

Baseball cleats

Cup (not mandatory for T-ball or Rookies, but recommended for Rookies)

Bat (not mandatory - one will be available during games)

Batting helmet (not mandatory - one will be available during games)
NEW! Little League has adopted a new bat standard as of January 1, 2018. Bats approved for 2017 and prior years are no longer permitted in Little League. All players will be required to comply with the new bat standard in order to play and participate in Little League activities. Approved bats include those with the USA Baseball sticker. Details about this change can be found at http://www.littleleague.org/learn/equipment/baseballbatinfo.htm.
VOLUNTEERS NEEDED!

Team Manager and Assistant Coaches
PNLL is always in need of some great parents to volunteer as the Team Manager and Assistant Coaches. Your help is needed to provide the most enriching program for your child. If you are interested in spending some quality time with great kids, this is the place for you! Our organization is all about the kids and making the season the best it can be.
Team Parent and Snack Shack
Not sure about coaching? There are other ways to help! Each team needs a team parent to organize schedules and keep parents up to date on what's going on with the team and the league throughout the season. Alternatively, our snack shack is a popular place to be! The kids love it and we need your help. Just 2 hours a couple of times a month helps us tremendously. No one wants to see the snack shack closed because there are no volunteers.
Adult Umpires
Majors, Minor A and Minor B games are officiated by umpires. If you or someone you know is interested, training is available. No experience is necessary! We are here to support you.
Yearbook
We are looking for a few volunteers to take pictures throughout the season to put in our end of the season yearbook. All of you photographers out there, we need you! We will set up a secure way to upload pictures throughout the season.

Opening Day & Fundraising
Can't commit to volunteer on an ongoing basis? We have several opportunities for you to volunteer for single events, including Opening Day and Fundraising Events. Fundraising is critical to keep our registration fees low and still offer a fun and meaningful program for your children.

We know your time is valuable. Please volunteer in any way that you can. PNLL is 100% a volunteer organization, and we can't make it without you.
QUESTIONS AND CONCERNS:
If you have any questions or concerns, please contact us at tina@pnll.org. Our goal is to reply to your questions and concerns within 24 hours, but during high volumes of email correspondence, response time could take a little longer. If your matter is urgent, please indicate so in the subject.



---
Free Agent Fees

Regular

140.0

Late

160.0

Free Agent Fees

Regular

195.0

Late

220.0

Free Agent Fees

Regular

195.0

Late

220.0

Payment Plans Available

Free Agent Fees

Regular

195.0

Late

220.0

Free Agent Fees

Regular

195.0

Late

220.0

Free Agent Fees

Regular

140.0

Late

160.0

Free Agent Fees

Regular

195.0

Late

220.0

Free Agent Fees

Regular

195.0

Late

220.0

Payment Plans Available

Free Agent Fees

Regular

195.0

Late

220.0

Free Agent Fees

Regular

195.0

Late

220.0

Free Agent Fees

Regular

195.0