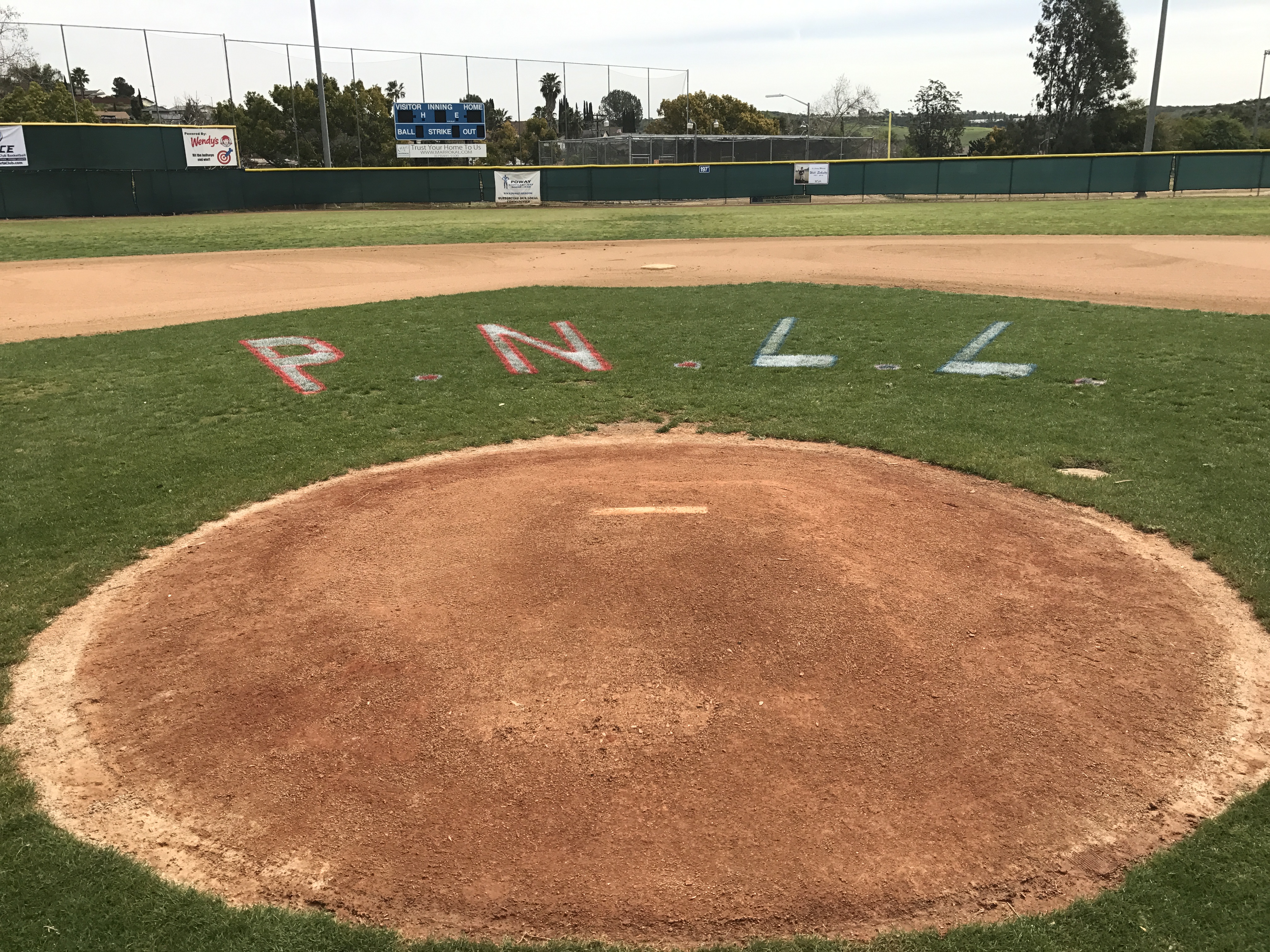 Want to play? Get in touch!
Fall Ball Registration is OPEN!
CLICK HERE to REGISTER for FALL BALL
Email
Questions or issues with the registration, contact  pallinformation@gmail.com. Any other concerns, email tina@pnll.org.
---
---
From time to time we may need to close the fields for one reason or another. When we do this, we use Rainedout.com.  To setup Rainedout.com text messaging, simply text pnllbaseball to 84483 . This will allow you to receive text messages when there is a change in field status.

You can also signup for email alerts by going to www.rainedout.com. Search for Poway and then click on Poway National Little League under the preferred results section.  Follow the email signup directions and you will be all set.

PNLL Mission Statement
Poway National Little League provides a safe and enjoyable environment for youth ages 4 to 13 to play baseball at all levels. Through proper guidance and exemplary leadership, our Little League program assists youths in developing the qualities of citizenship, discipline, teamwork, physical well-being, friendly competition, skill development, human growth, good sportsmanship and family values. By espousing the virtues of character, courage and loyalty, our Little League Baseball program is designed to develop superior citizens rather than superior athletes.
Connect with us:
Fall Ball Registration is OPEN!
This year Poway American Little League (PALL) & Poway National Little League (PNLL) are excited announce that we have joined forces again to put together a fun & relaxed Fall Ball season for the entire community to enjoy. 

All players will register online this season, both new and returning. No applicant will be permitted to participate in any activity until this form has been completed in its entirety and all registration fees have been paid in full. Instructions for payment and related forms will be provided as you step through the registration process. Registration cost will be $85.00 with a $10.00 sibling discount.  Ages 4 to 13 welcome (born between Sep 2004 and Aug 2014)

We will start games on September 9th. Normally Fall Ball consists of 10 games. Games are played on Saturday afternoon/evening and Sunday mornings at either PALL or PNLL fields. Teams are typically formed based upon friend requests, coach recommendations and league alignment.  There are no tryouts for Fall Ball.  Practices are up to the discretion of the team manager.

Fall Ball is very relaxed and players are encouraged to â??Play Upâ?? to the level they expect to play in the Spring 2018. Majors will be playing 50/70 rules (Mound at 50 feet instead of 46 and bases at 70 feet instead of 60), which includes leading off.  
Divisions Offered (Please check 2018 League Age to see what division your child should play in ---> 2018 League Age Chart:
T-Ball (Ages 4-6)
Rookies (Ages 6-8)
Minor B (Ages 8-10)
Minor A (Ages 9-11)
Majors (50/70) (Ages 11-13)
Registration closes August 28th 2017.
This year, PALL will be processing Fall Ball registration through their website.  When you receive a receipt from them, please do not be alarmed.  You are registered in the correct program.   If you have any questions or issues utilizing the PALL website to register, please contact PALL at pallinformation@gmail.com.  If you have any other questions or concerns, please feel free to contact tina@pnll.org.  

2018 Little League Bat Standards

As of January 1, 2018, the new USA Baseball Bat Standard will be implemented. Little League-approved baseball bats that are approved for use for the 2017 season will no longer be acceptable for use in any Little League game or activity starting on January 1, 2018. 
Little League International has created an online resource page dedicated to the new bat standards, including frequently asked questions.   Please click on the link below for details.
2018 Little League Bat Information

PNLL Needs You - Board Members and Committee Members 
We have a few board member positions opening up for the 2018 season. Can't commit time to be on the Board? Try one of our committees.  We have PNLL committees that need volunteers. If you are interested in joining the Board or one of our committees for the 2018 season, please email tina@pnll.org.  

A GREAT BIG THANK YOU TO OUR MAJOR SPONSORS