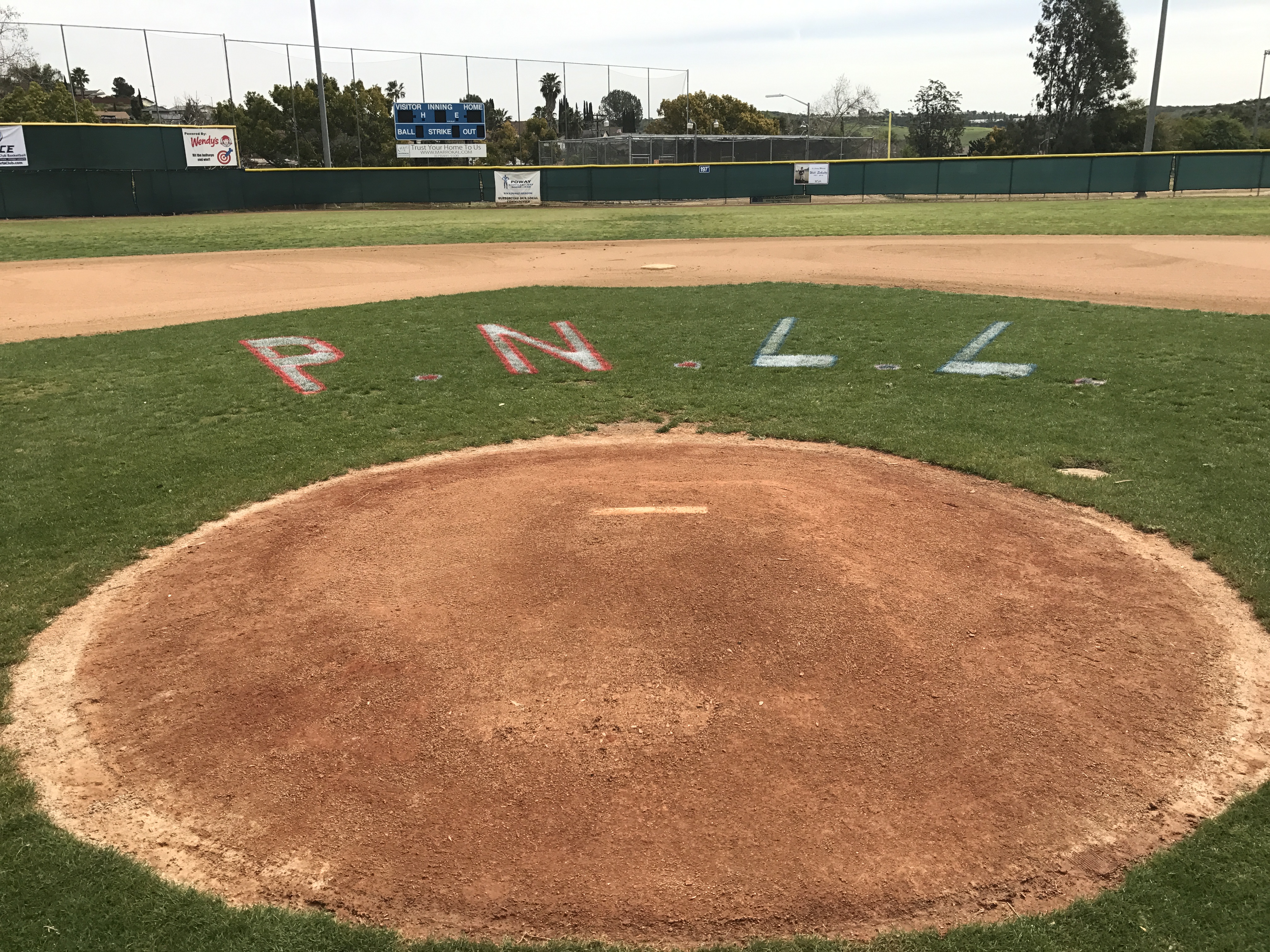 Want to play? Get in touch!
Thank you to everyone that registered for Spring 2017.  Spring registration is now closed.  Please check back in July to register for Fall Ball!
Email
Field Conditions Hotline
From time to time we may need to close the fields for one reason or another. When we do this, we use Rainedout.com.  To setup Rainedout.com text messaging, simply text pnllbaseball to 84483 . This will allow you to receive text messages when there is a change in field status.

You can also signup for email alerts by going to www.rainedout.com. Search for Poway and then click on Poway National Little League under the preferred results section.  Follow the email signup directions and you will be all set.

PNLL Mission Statement
Poway National Little League provides a safe and enjoyable environment for youth ages 4 to 13 to play baseball at all levels. Through proper guidance and exemplary leadership, our Little League program assists youths in developing the qualities of citizenship, discipline, teamwork, physical well-being, friendly competition, skill development, human growth, good sportsmanship and family values. By espousing the virtues of character, courage and loyalty, our Little League Baseball program is designed to develop superior citizens rather than superior athletes.
Connect with us:
2017 PNLL All Star Selection Process - Majors and Minor A Only
It's hard to believe that we are already more than halfway through the Little League season, but as you know, time flies when you are having fun!
Please take the time to read these very important linked documents below regarding the PNLL All Star process. This process can be complicated to those who are unfamiliar with how All Stars are selected. We have done our best to provide you with detailed information to help you understand it better.
As always, we encourage all PNLL Majors and Minor A players to make themselves available for All Stars this year. Keep in mind, there is a mandatory commitment associated with All Stars that your player is expected to keep if they are selected for a team. They MUST be available between June 1st and July 31st for practices and games.
Please check your calendars, delay those summer vacations and extend your baseball season. It will be a time to remember for many years to come. Again, please read these documents and discuss this opportunity with your All Star! Self-nomination forms are to be placed into the All-Star ballot box located at the Snack Shack. The deadline to turn in a self-nomination form has been changed to Thursday, May 4th when the Snack Shack window closes after the last scheduled game.
If you have any questions regarding this process please don't hesitate to call either Player Agents: 
Mike Furlano 858-382-3580 (mikefurlano@rocketmail.com) or Rob Dickey 858-382-0534 ( rpd89@icloud.com).
2017 PNLL All Star Selection Process

2017 PNLL All Star Self Nomination Form

PNLL Needs You - Board Members and Committee Members 
We have a few board member positions opening up for the 2018 season. Can't commit time to be on the Board? Try one of our committees.  We have PNLL committees that need volunteers. If you are interested in joining the Board or one of our committees for the 2018 season, please email tina@pnll.org.  

PNLL Parent's Night Out - THANK YOU!
Thank you to all of the parents that came out to our first Parent's Night Out at Poway Irish Pub.  Everyone had such a great time, we're planning another one coming up in May!  Please be on the lookout for an announcement of the date and time.
Annual Spring Fundraiser
Thank you to all of our families that helped make the 2017 Spring Raffle Fundraiser a success.  We raised over $15,000! Congratulations to the many raffle prize winners.  To find out if you or someone you know won a prize, go to our raffle prize winner link below.
Little League Night at Poway High School

Little League Night at Poway High School is scheduled for Friday, May 5th.  Additional details will be provided by your team parent.

Little League Day at Petco Park

Little League Day at Petco Park is scheduled for Sunday, May 21st.  The Padres will be playing the Arizona Diamondbacks at 1:40pm.  Your team parent will give you details about how to obtain tickets.
A GREAT BIG THANK YOU TO OUR MAJOR SPONSORS